Do you want to know if GetResponse Pricing is worth it?
Are you searching for a GetResponse review that is your one-stop information place for everything you need to know? Look no further. You are in the right place. Whether you are starting your blog, a consolidated entrepreneur, or a big company marketing manager, GetResponse can be your solution.
This platform is perfect for individuals, beginners, and businesses of all sizes. It offers many features to help you create and send beautiful emails, track your results, and grow your subscriber list. But it doesn't end in email marketing only.
This review will deeply examine what makes GetResponse unique and how it can help you achieve your business marketing goals.
It will also show you how to start a free account, navigate the platform, and create your first unique emails.
Disclosure: Some of the links in this article may be affiliate links, for which I may get compensation at no cost to you if you decide to purchase a paid plan. I've personally used or thoroughly researched these products and stand for them. This site is not intended to provide financial advice but for entertainment only. You can read our affiliate disclosure in our Privacy Policy.
What Exactly Is GetResponse?
GetResponse is an all-in-one marketing solution that lets small and large, new, and established businesses design and send professional email newsletters, autoresponders, and web forms.
It also includes a variety of built-in analytics and reporting features so you can track the success of your campaigns.
GetResponse offers many integrations with other popular online tools, such as Salesforce, Shopify, and WordPress.
GetResponse is an excellent option for an easy-to-use solution. It offers a wide range of features, and its pricing is very competitive.
Let's take a look at GetResponse's most relevant features:
The Features That Worth The GetResponse pricing
Some of the key features that make GetResponse a complete marketing suite:
Email Marketing
GetResponse is an all-in-one email marketing solution that offers a wide range of features to help you engage and sell to your subscribers.
You have everything you need to create and send effective email campaigns with newsletters, autoresponders, automation emails, automated blog digest, and perfectly timed emails.
Additionally, with the paid add-on Transactional Emails, you can use SMTP-triggered emails to send receipts or reminders. So whatever your needs may be, GetResponse has a feature to help you meet them.
Website Builder
GetResponse offers a no-code solution for building websites.
It is perfect for businesses that want to get online quickly and easily.
You can use AI to help you build your page and promote your business through all your channels. Or do it yourself with the intuitive and easy-to-use drag-and-drop functionality.
You'll have complete design freedom to bring your ideas to life and access tailored templates for your business needs.
Plus, you'll have access to all the other tools that GetResponse offers, such as email marketing and online marketing.
Marketing Automation Builder
GetResponse's Marketing Automation Builder is perfect for informing your audience about your products and services.
It allows you to create customized automated workflows that will keep your leads engaged and informed.
Combine the power of automation with the other features that GetResponse offers, and you'll be able to connect with your tribe on a deep level, saving a lot of time in the process.
ECommerce Marketing Automation

You will have easy, one-click integration with all the top eCommerce platforms.
Turn your online store into a sales engine with automated Conversion Funnels and email workflows to guide your customers through the buyer's journey.
With GetResponse, you can increase your conversion rate, average order value, and repeat purchases.
Synchronize your products and customer data effortlessly.
You can generate sales by sending hyper-specific offers to the right customers using email marketing, automation, SMS, and more.
You may target customers precisely with sophisticated segments based on your store data.
The Complete List Of Features Offered By GetResponse (Free and Paid)
Below is the complete list of tools offered in the suite; many will be free forever (up to 500 subscribers), and others with a paid plan.
But starting an online business, you are covered with a free account for the essential features at no cost.
And you can scale at affordable prices when you need more features.
You can have many paid features for free for 30 days! That way, you can decide over actual usage if some parts are worth it for you to pay or not.
Contacts (Free)
Import, export, add, and organize contacts
Segment lists to send targeted emails
Email Marketing (Free)
Create beautiful emails with no design experience necessary
Autoresponders
Automate email marketing to save time
Website Builder (Free)
Create professional websites in minutes
Landing Pages (Free)
Create a landing page or mini-site to promote your product or service
Forms and Popups (Free)
Add subscribe forms in line with your content or triggered by many interactions, such as scrolling, exit intent, or inactivity.
Reports (Free)
To track opens, clicks, unsubscribes, and more
ECommerce Tools
Abandoned Cart emails, product recommendations, integrations, and more
Automation
Create automation workflows based on your audience's actions
Webinars
Host live or automated webinars to build relationships and generate leads and sales
Conversion Funnels
Turn your contacts into customers with a series of targeted emails
Grow your lists by keeping your visitors engaged with email series
Promote your Webinars, share and sell knowledge
Paid Ads
Create Facebook and Instagram ads directly into your GetResponse login. (Facebook ads account is required)
Connect your ads with funnels for the best results
Chats
Add a fully customizable live chat service to your website
Web Push Notifications
Keep your users more engaged with the latest news, products, or promotions notifications for desktop and mobile
Files and Images (Free)
Access an incredible selection of nearly 2.5 million images and graphics from GetResponse, totally free, and over 200 billion images from Shutterstock (paid)
There are also over 4000 free gif images from Giphy
Or upload your photos, logos, and graphics to your library.
Use them in your emails, landing pages, websites, and forms
Integrations and API
Connect GetResponse to other software you use
Webhooks
Get notified of your contacts' activity in real-time across external systems
GetResponse Plans and Pricing
You can start for free and grow as you go with the various GetResponse pricing plans to fit the needs of any business, no matter the size or budget.
GetResponse offers four different plans for everyone:
Free Plan
For beginning business, costs are critical. With the free plan, you can access a great deal of essential business software at zero cost.
The free plan includes:
Unlimited newsletters
One landing page for up to 1000 visitors
Website Builder including SEO Tools, SSL Certificate, 5GB Bandwidth, Galleries, Pop-ups, and Forms
Connect your domain (You can do it in the free plan, unlike other services where you need to have access to a paid plan to secure your domain)
Sign-up forms and popups
A 30-day trial of premium features, so you can try them risk-free
Email Marketing Plan
Starting at $15.58/month (billed annually) or $19/month (billed monthly) from 501 to 1000 contacts, the Email Marketing plan includes all of the free features, plus:
Autoresponders
Unlimited landing pages
Unlimited Website Builder (With all the advanced features and a more significant bandwidth of 10GB)
Basic segmentation (Based on contact details in your account)
Email Scheduling
Integrations and API
Unlimited lead funnels
Chats
Paid ads
Integrations & API
Marketing Automation Plan
Starting at $48.38/month (billed annually) or $59/month (billed monthly), the Marketing Automation plan includes all of the features in the Email Marketing plan, plus additional traits:
Website unlimited bandwidth
Marketing automation
Event-based automation
Webinars
Advanced segmentation
Contact scoring
Unlimited funnels
3 Users
ECommerce Marketing Plan
Starting at $97.58/month (billed annually) or $119/month (billed monthly), the eCommerce Marketing plan includes all of the features in the Marketing Automation plan, plus additional features such as advanced automation and reporting, and more:
Quick transactional emails (Automated order confirmation and abandoned cart emails, integrated with online store software such as Shopify or Magento)
Ecommerce segmentation
Abandoned cart recovery
Promo codes
Product recommendations
Web push notifications
5 Users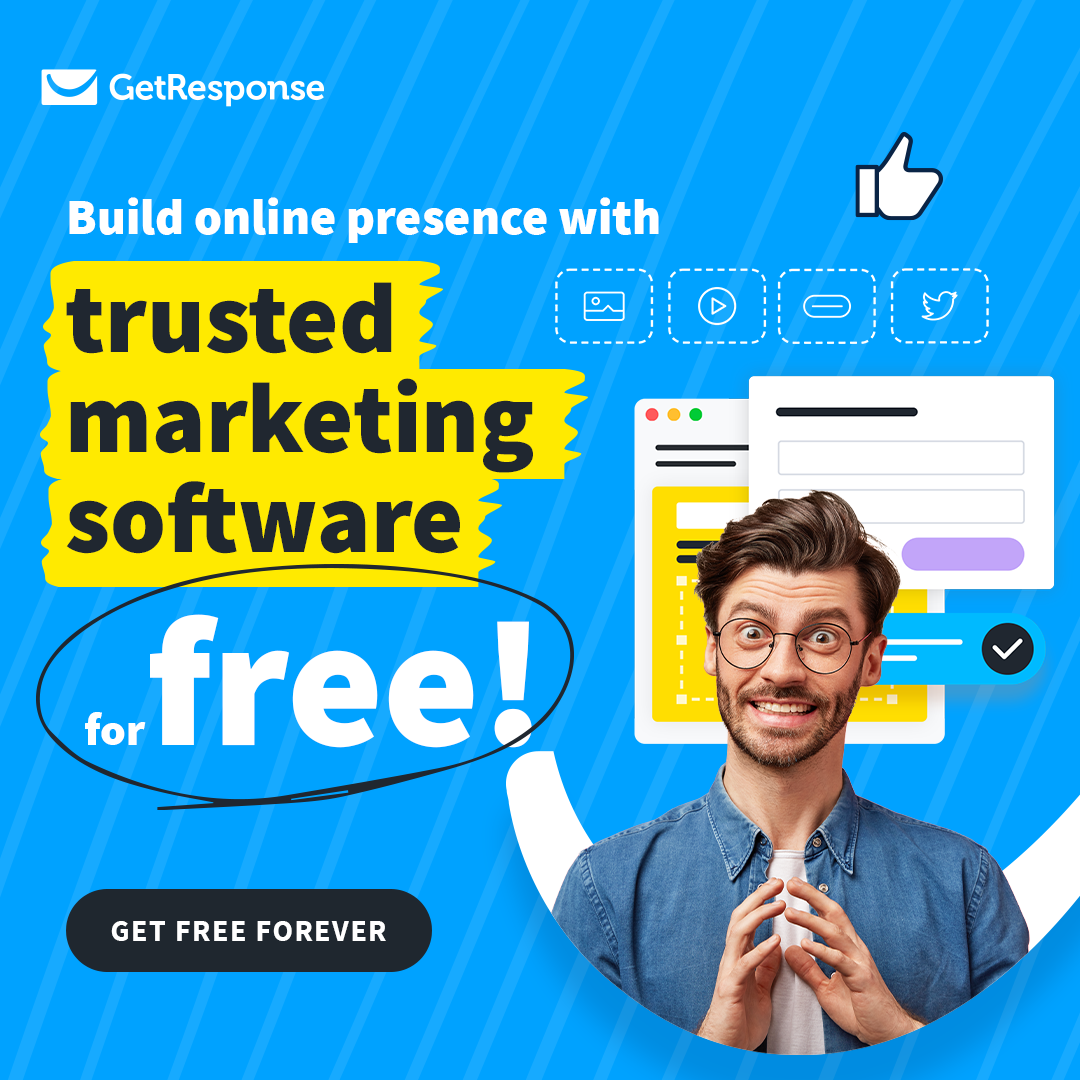 Plans for Companies:
There are also custom plans for mid and large companies, MAX and MAX2. These plans' prices are upon request of a quote.
Among the features of MAX2 are the following:
SMS Marketing
Dedicated support
Multiple accounts and users (10 Included, up to 500)
Account migration support
Single sign-on
Webinars up to 1000 attendees (500 Included).
Assisted IP warmup
How To Start A Free Account With GetResponse
Click here to access GetResponse, and the sign-up page will open in a new tab, so you can follow the below steps:
1. Click the Sign-Up Free Button
2. Enter Your Full Name, Email, and Password
You will see the below page. Enter your full name, email address, and password (check the security requirements). Finally, hit the Create Account button.
3. Check Your Email Inbox
From here on, the steps are easier to follow. The below pop-up will appear: Click on the button to check your email inbox.
4. Activate your account
You should have received an email like the one below. Click on the Activate My Account button. If you did not see the email, check your spam or promotions folders in case it was sent there.
5. fill up Your Data
You will be prompted to fill in additional information to set up your GetResponse account. Fill up the form, click the consent checkbox and click on the button Save and Continue.
6. Follow the setup instructions
These are easy-to-follow selections, starting with adding your contacts and your website if you have any. Let's assume not yet: Click on the options and the buttons to continue to your Dashboard.
The welcome message shows an upgrade offer on sign-up (and you'll get a $199 email marketing certification course).
If you are planning to use autoresponders, which are an essential feature you will need in shortly, then start with the $19 plan per month, with no commitments per year, and get the advantage of this course as well.
Otherwise, click Maybe Later, and that's it. Your account is ready!
Navigating Your GetResponse Account:
You will first see an interactive tour to start setting up your website and other features. You can follow it if you like.
I will show you those features in this article anyway, so you can skip them. Click Explore without a tour and let's check the dashboard navigation below.
The first thing you will see is the interactive guides button, click on it and check excellent videos explaining the main features.
Next to the interactive guides, you will find notifications, help and support, and your account settings.
Below is your GetResponse admin panel:
Home (you are here now)
Tools menu
Contacts, Email Marketing, and Reports tabs (to manage your lists, create newsletters, and see their performance)
Chat 24/7
This band shows your remaining time for a trial of the premium features
Widgets. By default, these are already created you can remove the ones you don't need
Add new widgets as you need
Now is your time to explore and get acquainted with your new GetResponse account, or if you didn't start yet, do it here, go back and follow along.
I recommend you to use the Tools menu, number 2 of the list above, as there is where you have access to all the features discussed.
Not only that, but you can also customize your top bar with the 3 features that you use the most.
If you are a blogger and want to promote the GetResponse software, when you become a partner, you can connect your user account to your affiliate account and have it all in one hub.
How To Create Beautiful Emails With GetResponse
With easy-to-follow instructions, you can create and send a fabulous newsletter
1. Open create Newsletter
From your dashboard, click on one of the options below:
2. Enter Information
Name your email newsletter to quickly identify it later, your from/to email, a catchy and personalized heading, and the recipient (you can add all your lists, one list, or manually individual recipients, or by tags, or exclude specific recipients, fully-flexible).
3. Design Your Email
Select a pre-designed template or a blank template. The choice is yours
Easily drag and drop elements, edit fonts, sizes, colors, backgrounds, spacing, and everything else with intuitive tools.
Add buttons with links to your content, offers, or whatever you are showcasing. Test and preview and click on next.
4. Send your Email
You can send a test message and edit it again if necessary, then select tracking and scheduling options and save it as a draft for future messages if you like.
Finally, click on the sending button, and there you go, and your message will go to your subscribers.
GetResponse offers tools to help you create beautiful emails, even if you have no design experience.
With GetResponse's email editor, you can create custom emails using a drag-and-drop interface, or you can choose from one of GetResponse's many templates.
GetResponse's templates are mobile-optimized, so they'll look great on any device.
In addition to its email editor, GetResponse also features tools to automate your email marketing.
Making your beautiful emails effective
You can automatically send emails triggered by actions, such as subscriber behavior or purchase history with autoresponders.
And with GetResponse's conversion funnel, you can turn your contacts into customers with a series of targeted emails.
GetResponse's Pros and Cons
Pros
Free account to start, including connecting own domain.
All-in-one email marketing solution with everything you need to run your online business.
GetResponse's deliverability is among the best in the industry.
Easily create beautiful emails, landing pages, websites, and more, with their drag-and-drop email builder.
Avoid the CMS's learning curve.
Cons
GetResponse pricing will be high as your list grows if you need it only for email marketing.
Websites cannot be moved to another hosting platform. If you need to change, start the website from scratch.
GetResponse Ratings and Testimonials
Don't just take my word. Here are some case studies of actual GetResponse users and below ratings from high authority review sites, Capterra, Trustpilot, and TrustRadius.
What Is Email Marketing?
Email marketing is a direct form of marketing that uses email to communicate. It is a way of sending informational, commercial, or fundraising messages to an audience.
Email marketing can be very efficacious with the right tools and tactics. It can help to build relationships with potential and current customers, promote a product or service, and generate leads.
Email marketing must be well-planned and targeted to be successful. The message must be relevant and interesting to the recipient, and the sender must understand anti-spam laws well.
Email marketing can be an excellent way to reach out to customers and grow a business.
What Are The Main Tracking Metrics in Email Marketing?
There are some key tracking metrics to gauge the success of your email marketing campaigns. These include deliverability, open, click-through, and unsubscribe rates.
Deliverability rate: The percentage of emails that were successfully delivered to subscribers. This metric can be affected by several factors, such as the quality of your email list and the content of your emails.
Open rate: It is the percentage of subscribers who open your emails. A reasonable available rate is typically around 20-30%. This metric can be affected by the subject line and sender name of your emails.
The Click-through rate is the percentage of subscribers who click on at least one link in your email. A reasonable click-through rate is typically around
Unsubscribe rate: The percentage of subscribers who unsubscribe from your email list after receiving one of your emails. A reasonable unsubscribe rate generally is about 0.2 to 0.5 percent.
Quick Tips to Grow a Subscriber's List
There are a few key ways to grow your email list:
You can offer incentives for subscribers, such as discounts or free shipping.
You can also run email campaigns specifically designed to increase your list.
And you can make it easy for visitors to sign up for your emails by adding a sign-up form to your website.
GetResponse FAQ
How much is GetResponse Monthly?
The monthly cost will adjust according to the payment plan you select. For 12- and 24-month prepay plans, you receive an 18% or 30% discount, respectively, and pay for one or two years at once. Month-to-month plans do not have a discounted rate.
What if I go beyond my list-size limit?
GetResponse doesn't interrupt or interfere with your service in any way. No contacts are lost. For each month during which your list exceeds the maximum allowed in your chosen plan, GetResponse adds the remaining contacts and charges a list extension fee to your account.
Can I cancel my account?
You have the option to conclude your membership at any time. After login, go to My Account and choose My Billing from the drop-down menu. Select Cancel Subscription. When you cancel an account, you will lose all of its data.
What is the GetResponse refund policy?
The GetResponse paid membership is a pay-as-you-go service. GetResponse does not provide reimbursements even if you cancel immediately after your credit card is charged for a new billing period. No additional charges are added to your credit card, but the amounts already spent are unreturned.
How do paid webinars work?
Paid webinars only open once the user has paid the webinar fee. You can enable paid webinars within the Conversion funnel section when creating a webinar funnel. The Professional plan includes this functionality.
What is the Social Ads Creator?
Paid GetResponse accounts can access the Social Ads Creator free via download from the App Store and Google Play. It helps you promote your brand on social media, usually with funnels and paid ads.
Does GetResponse offer any discounts for nonprofits?
Qualifying nonprofits can get a 50% discount on GetResponse services.
What does the eCommerce Marketing Plan include?
It includes automated product suggestions based on prior purchase data. A store and products center is an inventory of your items in your account and many other sophisticated solutions, such as abandoned cart emails.
Final thoughts on using GetResponse for email marketing
If you're looking for an all-in-one email marketing solution, then GetResponse is a great option.
With a free plan to start with and easy to use interface, it is ideal if you are planning to start a small business.
And, with many features and integrations, it's an excellent suite for businesses that want to increase their sales and conversions.
GetResponse is also a superior choice for nonprofits as it offers an up to 50% discount for those who qualify. GetResponse is a suite for individuals and businesses who want to improve their marketing efforts.
For an all-in-one marketing platform, GetResponce pricing is reasonable and scalable.
Sign up for a GetResponse free account, then decide on the plan.